ACE Fitness / ACE Nutrition client testimonials
As someone who used to get very nervous working out in front of other people out of fear of judgement, I can definitely say this is the best gym I've ever been to. The atmosphere here is very friendly and welcoming. I've become a much more consistent gym-goer solely due to the supportive energy. Couldn't ask for a better gym!
-Madison Fagan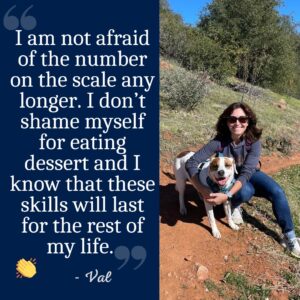 I started working with Kellie around 2 years ago. At the time I was an avid runner logging between 20-25 miles a week, eating 1000-1200 calories a day and "struggling to lost those last 5 pounds". I was so exhausted that it was difficult to do my job and care for my family, much less chase my dreams of fitness.
When we started working together the first thing I noticed about Kellie was that she didn't give me a meal plan and my "assignments" were limited to building my protein intake, tracking water and paying attention to how I felt. After as little as 1 month I felt changes in my body and attitude; I was sleeping so soundly, nagging running injuries were healing and I was calmer and more patient around my family. After a few months of nutrition coaching, Kellie talked me into adding a lifting routine to my workout schedule. I had tried lifting in the past but I always injured myself and then I couldn't run which meant there was no way I going to lift! I was skeptical but decided to try it anyway because Kellie & Ryan seemed to know what they were doing. It was a slow start but I never really injured myself AND I started to build muscle. Now I can pick up heavy things by myself without needing help and I am becoming more confident in how I look.
These external successes were what I was looking for in the beginning of this journey with Kellie. What I didn't expect was the shift in my mindset that has come with the physical transformation. I am not afraid of the number on the scale any longer. I don't shame myself for eating dessert and I know that these skills will last for the rest of my life. Because the transformation that I was looking for wasn't on the outside but on the inside and Kellie & Ryan helped me get there."
-Valerie Dewulf Albano
Great gym, better people. The equipment is top of the line and well maintained. Everything is always very clean and sanitary. Ryan and Kellie have a lot of knowledge and a great business, can't recommend this place enough!!
-Chris Joachim
"Ace Fitness is the best gym around and I recommend it any chance I get! I've learned so much and gained tons of strength since starting at Ace almost a year ago.
The owners are very kind, welcoming, knowledgeable, flexible, and super patient. Ryan knows his stuff and is great at meeting you wherever you're at – seasoned gym-goer or total beginner. He's also meticulous about safety.
The gym is well equipped, super clean, and comfortable.
I love Ace's welcoming vibe and the sense of community among the other members."
-Ariana Howard
Ace Fitness is an incredible gym!! Friendly people, lots of great equipment but best of all the very best trainer in the world!! I have trained with Ryan for 12+ years now! Being "older" I have several "ailments" that he has to consider when devising my weekly routines!!
Among them: 2 rotator cuff tears in one shoulder, have had surgery on both shoulders, total knee replacements, torn Achilles' tendon repair. I WILL STOP THERE!
Ryan is very knowledgeable about lifting and how to assist his clients to get the most out of their workouts. I'm not quite sure how he does it but after every workout I feel like I have been challenged and have worked hard. He is very in tune with his clients and their goals, needs and abilities. I would not go anywhere else!
-Nancy Poulos
If you are looking for a gym that will change your life for the better, look no further than ACE Fitness Center!
When you walk into this gym, you are immediately welcomed and you become part of a close-knit family! Since I have been training here (and, by the way, I've been training with Ryan Largay for almost 12 years – I have followed him to 4 locations and would never consider going anywhere else!), I've gained mental and physical strength, confidence that never existed for me before, and the realization that I am capable of so much more than I ever thought possible.

I am in better mental and physical shape at 56 years old than I have ever been in my life! I have made lifelong friends here and it is so much more than a gym to me. Ryan has trained me (basically a nobody!) to be a National and World Class Athlete and his professionalism, knowledge, patience, and personality are unsurpassed. Ryan and Kellie Largay are an awesome team and they have built an amazing gym for their community. If you aren't training here, you're missing out! What are you waiting for???
One might ask why so many people believe ACE Fitness is the best gym in the North Country. For some, it's the equipment . . . in my time at ACE, Ryan has invested tens of thousands of dollars in new equipment (love the recently added Rogue belt squat!). For others, it's the workouts . . . Ryan has a knack of designing regimens that are challenging, inspiring and safe, with variations that always keep things fresh and interesting. (And as an "older guy", I can't imagine it's always easy for him . . . I've got some creaks and cracks but Ryan constantly checks with me verbally and physically to ensure movements or load don't bother my problem areas.
In 5+ years of heavy lifting, I've never experienced an injury.)
But for me, I'd say it's the people. Ryan is a fantastic full-time personal trainer, part-time therapist, motivational speaker, supportive workout partner and as happens very quickly after getting to know him, a great friend. Ryan makes this whole thing work . . . his professionalism, knowledge, caring attitude and genuine support make him and his facility like a magnet that attracts so many wonderful people. ACE Fitness is more than just a building full of weights and machines; Ryan has built (and deservedly so) an actual community.
-Francis Matott
ACE Fitness Center Specializes In
Personal Training
Sport Performance
Boot Camp Classes
Group Training
Nutrition Coaching
Strongman/Powerlifting Classes

 
ACE Fitness Center Location
Stop In!
We are located at:
1565 Meadow Street
Littleton, NH 03561